Probably the most useful software business tool we use at Brightwood Creative is Pancake App.
We love to craft beautiful websites and deliver smart graphic design projects to clients, and while business accountancy is certainly important, we'd rather be sketching the next piece of digital art or coding a responsive website than punching numbers into an Excel spreadsheet. Pancake App makes business accounting a breeze. More than just invoicing software, Pancake tracks our projects, expenses, proposals, estimates and takes payments.
Quick Outline:
Cost: $179.00 (one-time payment)
Software Type: Self-Hosted
Custom Branding: Yes
Web Access: Yes
Client Access: Yes
Pro Support: Included
Multiple Currencies: Yes
Accept Payments: Yes
Import From Other Service: Yes
File Uploading: Yes
Time Tracking: Yes
Multiple Users: Yes
Expense Tracking: Yes
Setting Up Pancake App
As self-hosted software, Pancake App is installed on any web-server by copying the installation files into an active web directory. Pancake also requires one MySQL database. The software will run on most common URL or directory configurations. For example in a directory (http://*domain*/pancake) or subdomain (http://pancake.*domain*/). The system functions perfectly with either Apache or Nginx web-servers. Once installed, the administrator can add more users (employees for example) with their own user names and passwords.
Next you will want to add your business' Branding assets so that emails, invoices, estimates and proposals have your custom logo attached. Similarly, add your business address, phone numbers & contact email addresses to the appropriate fields.
Screenshots:
Setting Up Payments
Accepting online payments has never been easier. Pancake App allows online payments using PayPal and our favourite payment processor Stripe! Stripe simplifies the online payments experience by keeping the user on-site, and all major credit cards are accepted.
** Stripe payments require a secure, HTTPS connection for authorisation, so you will need an approved SSL certificate installed on the web-server.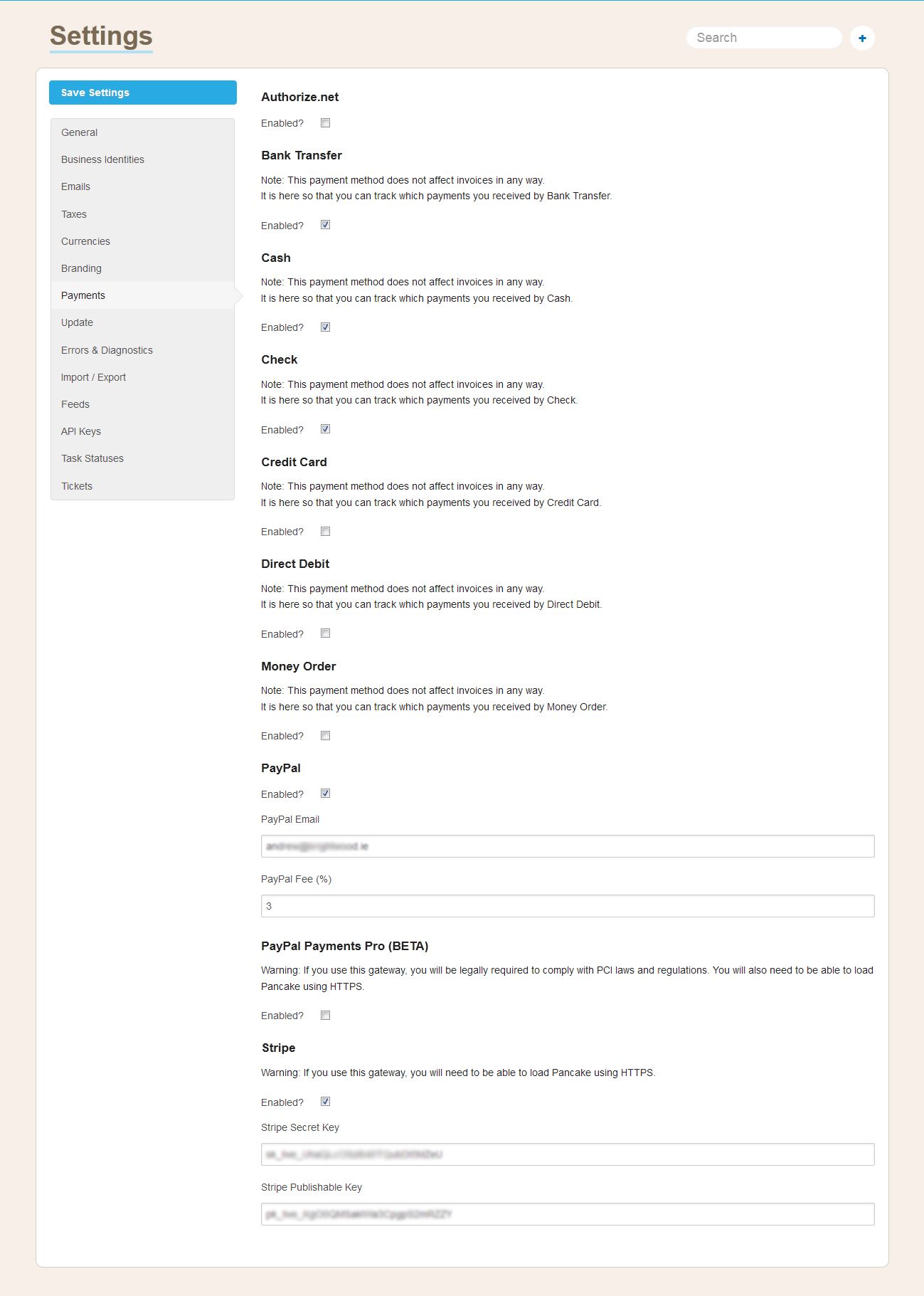 Invoicing & Estimates
Invoicing is a fact of life, and the folks and Pancake have made this process as smooth as possible. Whether you are sending one, or one hundred invoices per week, the Pancake system is designed to keep your business accounts rolling in top gear. We love the ability to generate invoices automatically based on Project Tasks and Expenses (more on this later), a huge time-saver. All invoices can be viewed by the client online at any time using a unique URL, and can be downloaded in pdf format.
Here's an example https://brightwood.ie/accounts/nO9vvO84
Estimates are created using the same method as Invoices. They are kept in a separate section on the Pancake system. When the time is right- you can convert any Estimate to an Invoice with one click.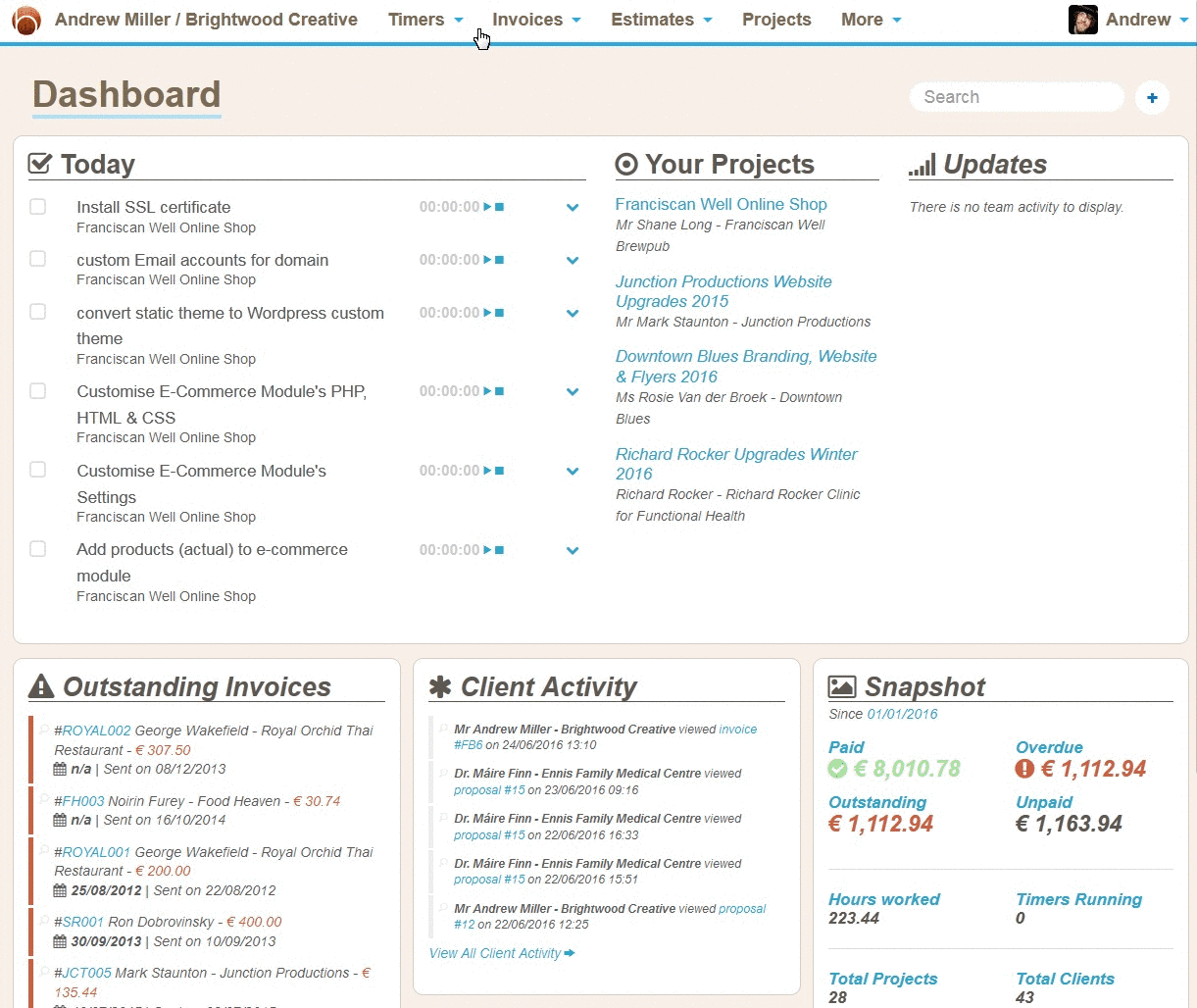 Project Tracking
Pancake App has a slick project management system. Whether your business is a solo enterprise or has dozens of employees, the system is designed to allow your team members to create & complete tasks, which can then be selectively viewed by the client. Time-per-task can be tracked easily using the built-in Timer app. Careful consideration has been given to ensure that the most essential project tracking features are at present in this great system.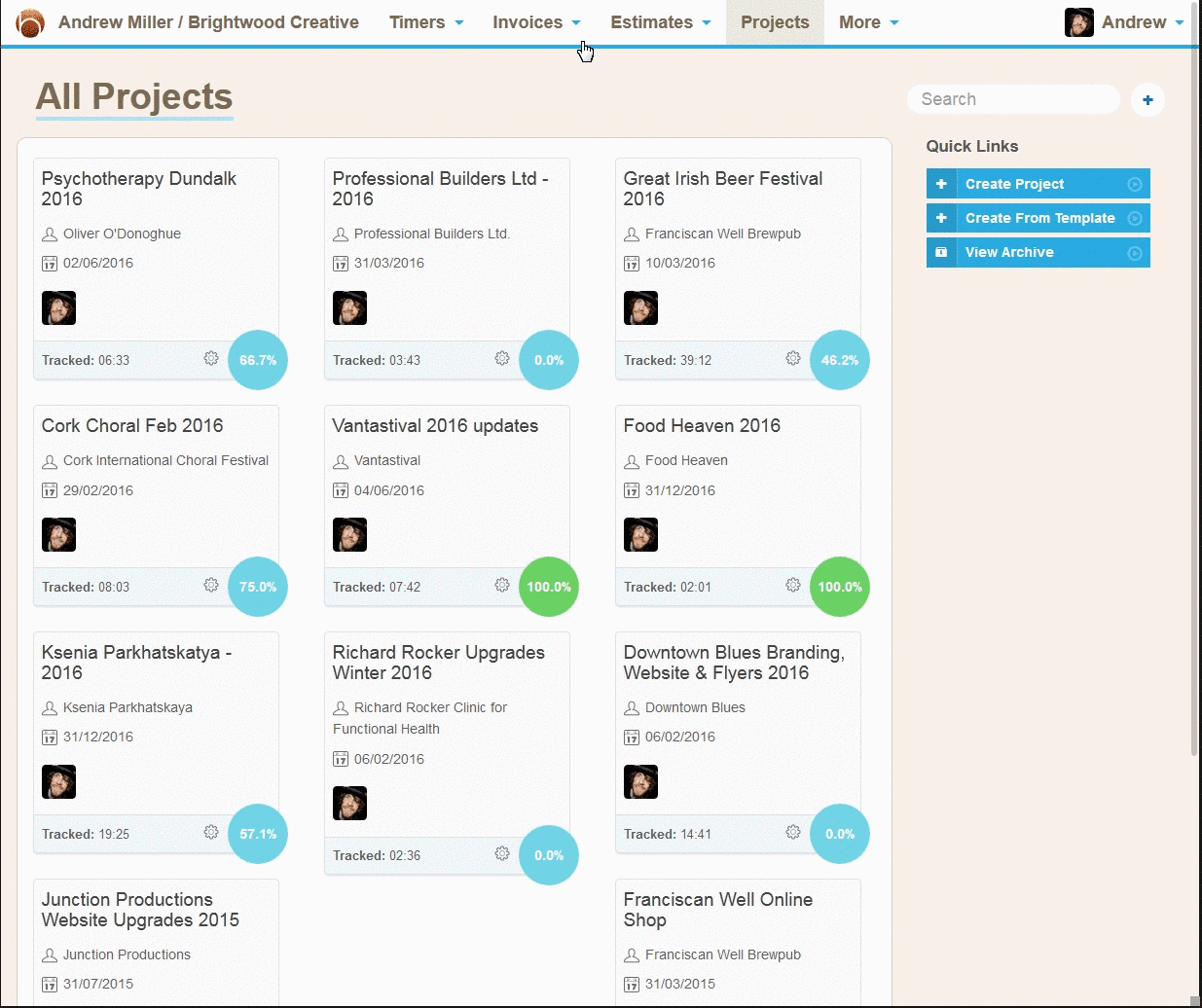 Client Area
Your clientele will probably be very impressed with Pancake App's slick Client Area system. The Client Area functions as the front-end, where your business contacts can view all of their related invoices, tasks, projects, tickets and more.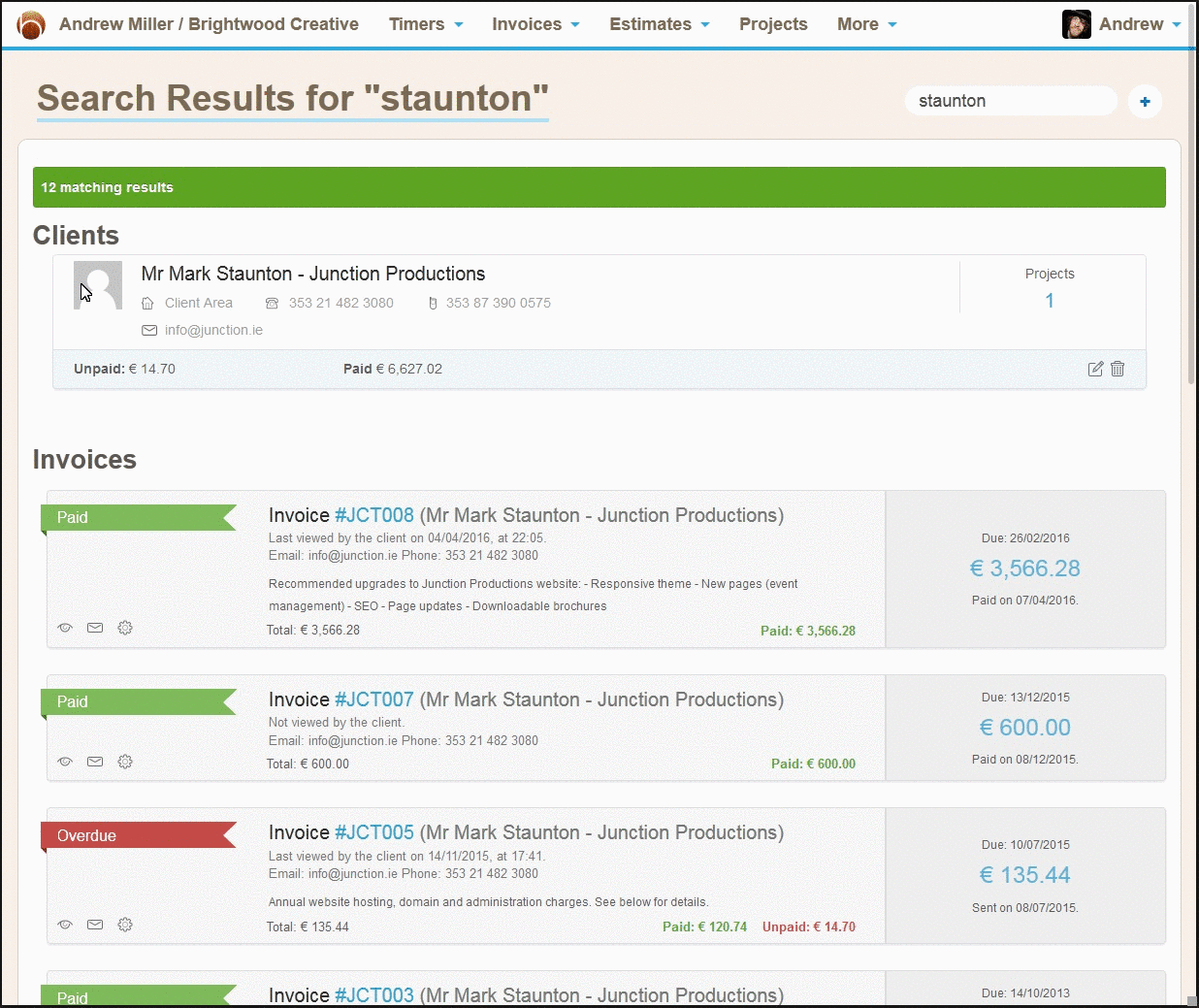 Create Attractive Proposals
Pancake App's fantastic proposal system provides a very useful way to write attractive proposals for your prospective projects. The prposal system integrates seamlessly with your CLients and Estimates. A full WYSIWYG editor with image embedding is enabled by default. You can also edit the HTML markup directly if you need more advanced page layouts.
More Features
Pancake also has these very useful features:
Managed client Support with Tickets
Download custom Reports for easy accounting
Pancake App Store where you can purchase extra payment gateways and other useful plugins
Interested in supercharging your accounting & project management with Pancake App?
Track your businesses projects, clients, estimates, proposals, expenses and invoices in one secure application- then start taking secure credit card payments right away.
Get In Touch